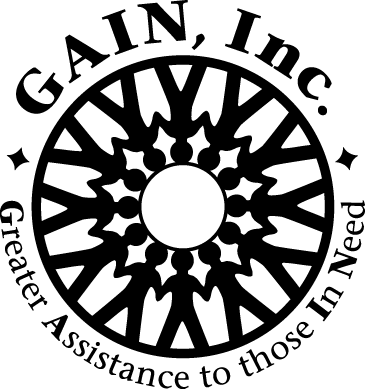 Our Approach ...
to chronic problems of mental illness
Homelessness. Substance abuse. Alienation.
Institutionalization. Isolation from community and family.
These are but a few of the problems faced daily by mentally ill people. If they are to live in the community, they may need extra, or greater, assistance because of their impairment. To live in the least restrictive environment, they may need access to 24-hour-a-day substance abuse and psychosocial rehabilitation services.
GAIN offers that assistance through an approach known as Assertive
Community Treatment. Studies confirmed the programs' success. After being in the GAIN program, clients noted a decrease in their psychiatric symptoms. Their Arkansas State Hospital admissions also decreased.
Our Method
The GAIN staff includes licensed mental health professionals and certified paraprofessional case
managers. They take services to clients in the community to help them learn how to adjust to independent living. This may mean taking a client shopping, to the doctor, to court, to look for housing, to pay bills, or to the GAIN Activities Center.
Case managers prompt clients to take their medication. They also help GAIN psychiatrists monitor any side effects of medication and increase in severity of psychiatric symptoms. Staff members conduct individual and group sessions to educate clients about their medication and illness. Although emphasis is on out-of-hospital treatment, GAIN staff assist a client with hospitalization should the need arise.
Our Admission Criteria
Any person, consumer, family member, or
agency may refer to GAIN.
General criteria for admission are:
diagnosis of a serious and persistent mental illness,
or dual diagnosis
or difficulty with, or current needs not being met by traditional outpatient treatment
or mutual agreement between GAIN and the person referred -- or another responsible party -- that treatment at GAIN would be beneficial.
Referral
TO MAKE A REFERRAL:
Call us at (501) 379-4246 and request a brief referral form, if you are with an agency. It can be faxed to you.
If you are a family member or other interested person, you may call and talk with a case manager.
Our Services
Intensive case management
Psycho-social rehabilitation services
Diagnostic evaluation
Supportive counseling
Medication management
24-hour crisis telephone hot-line and mobile crisis outreach services
Protection and advocacy
Assistance with daily living activities
Transportation assistance
Supportive housing
Educational and therapy groups
Organized outings and events
Opportunities for socialization at the Activities Center
Activities Center
It's a place where clients can participate in an art program, use a computer, play cards, read a
magazine, watch TV or a video, have 2 meals, meet peers for an outing, or just sit and talk.
The center is open weekdays.
Payment
Payment for GAIN services is arranged on an individual basis. GAIN may bill third-party sources, and the organization has access to special grants for clients who are unable to pay for services.
You are encouraged to call for more information if you have questions about cost of, and payment for, services.
(501) 379-4246